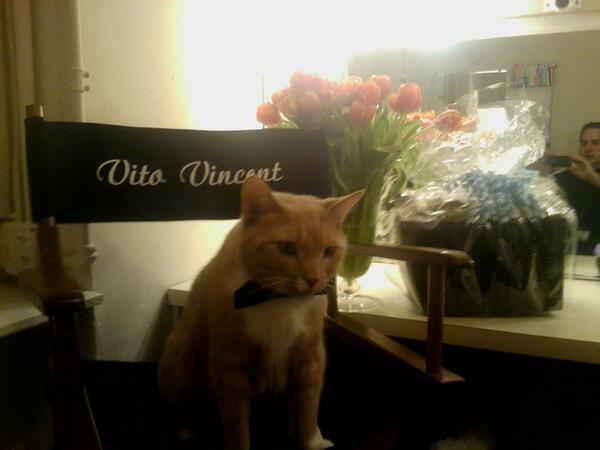 Meet Vito Vincent, actor, model and occasional butt-hole licker. Vito is a rising star in the animal talent business, appearing on the "Colbert Report," "30 Rock," and even a Macy's TV commercial. But fame may be going to his head, Vito was recently fired from the role of "Cat" in the Broadway production of "Breakfast at Tiffany's" due to his diva demands which included his own car and driver as well as limiting himself to only eight shows per week. Which seems reasonable, how's he going to find time to lounge around in quiet condescension with such a demanding performance schedule?
          What Vito forgot is that fame is a cut-throat business and there's always some bitch waiting in the wings who's thinner than you and willing to blow whoever it takes to get to the top. Vito was promptly replaced by his understudy, a young upstart named Chessie, who I'm told gives way better scratches.
Careful Vito, it's a short road to waking up in Brazil in a pile of catnip wearing a bad red weave and no memory of the past three weeks.